Aké. The Years of Childhood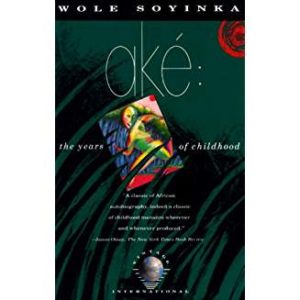 by Wole Soyinka. Rex Collins Ltd., London 1981.
Wole Soyinka recounts the first eleven years of his childhood, from 1934-1944, in Abeo
kuta, a small town in Nigeria. Wole's memories begin with his fantasies of Christian life in Aké, when he evokes the first Nigerian Bishop Samuel Ajayi Crowther to life. This moment, full of magic and poetry, is the prelude to an African microcosm, which takes us back in history more than fifty years. We see life through the eyes of a bright child who has an insatiable curiosity for the often irrational and hypocritical world of adults.
His father's home is the intellectual centre of Aké, the English missionary station, where the clash between old African traditions and modern Western Christianity is the subject of passionate discussions. Christian teachings, the wisdom of the ogboni, or ruling elders, and the power of ancestral spirits all carry equal metaphysical weight in Wole's memory. His mother, "Wild Christian," was a homemaker and market woman, warm-hearted and rigorous all at once. She collected lost children from the streets and brought them home, where they were nurtured as well as educated with her sovereign power.
Seeing the school nearby their family home made the four-year old keen to attend school together with his older sister, and his father was wise enough to agree to let him go to school. The events in the book are not always joyful. We witness the harsh treatment of a mentally-ill woman, as well as the death of a sibling. We learn of domestic and school dramas, exotic adventures (like taking part in a snake hunt), and the secret rites of circumcision by Wole's grandfather.
Seen through the eyes of the child, the characters of Aké come to life. The missionary, Pa Delumo, whose designation "kanonikus" reminds Wole of a cannonball, because of his round head, the traditional warrior Paa Adatan, patrolling the town against the threat of Hitler, the unwanted but entertaining guest, "Mayself," the idiosyncratic headmaster and his activist wife Mrs. Kuti, who enjoys little conspiracies, and the wise grandfather, called father, who connects Wole with the wisdom of his ancestors. World War II rages in the distance, while Soyinka's family becomes involved with the early Nigerian nationalist movement and the formation of a Women's Union. The story comes to a dramatic climax with the rebellion of the women of Abeokuta against the tax duties imposed upon them by the power of the Alake, the traditional head of the community, as well as by the English administration. It is like a bolt of lightning that helps spark the future independence of Nigeria from colonial power.
Aké reads like poetry, with vivid descriptions and lyrical language. Wole Soyinka has written plays, poetry and novels, but seems to have found his purest voice as a memoirist.
"A classic of African autobiography, indeed a classic of childhood memoirs wherever and whenever produced." — The New York Times Book Review
Novels and Autobiographies