Nervous Conditions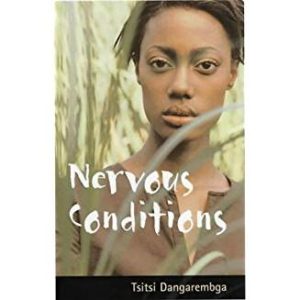 By Tsitsi Dangarembga. Ayeba Clark Publishing 2004
Tsitsi Dangarembga, who grew up in former Rhodesia (now Zimbabwe), wrote Nervous Conditions in 1989. In the decades since its publication, her novel has come to be regarded as a modern classic. Nervous Conditions is a coming-of-age story of an African woman, semi-autobiographical and in a true sense an African "Bildungsroman".
"I was not sorry when my brother died. Nor am I apologizing for my callousness, as you may define it, my lack of feeling. For it is not that at all. I feel many things these days, much more than I was able to feel in the days when I was young and my brother died."
Tambu lives on an impoverished Rhodesian farm during the late 1960's. Her uncle, Babamukuru, is headmaster of the Mission school in Umtali, to which he had taken Tambu's brother for education. Tambu also wants to be educated, understanding that this is a potential way out and up. But her parents can't afford the fees for her education. They also want her eldest daughter to be educated according to the rural traditions, to learn to cook and clean, and to grow vegetables.
"Aren't we the ones who bear children… When there are sacrifices to be made, you are the one who has to make them." Tambu's mother tells her. But the death of her brother changes everything. She is allowed to stay with her aunt and uncle while she attends school at the mission. Tambu shares a room with her cousin, Nyasha, and the girls teach each other many lessons. Nyasha had spent most of her formative years in England and when she returns to Africa, she realizes the vast differences between European culture and African culture – especially where women are concerned. As she tries to come to terms with being a woman in Africa, she experiences inner turmoil. Nyasha suffers from anorexia, a disease usually associated with the western world. Nyasha uses her disease as a form of control, as she struggles with being torn between African and the European culture. As we see Nyasha's struggles through Tambu's eyes, we begin to understand the continuing devastation countries experience as a result of colonization by another culture. Tambu, alter ego of Tsitsi Dangarembga, evolves through careful observation and "self-actualization." Her process of maturation is long, strenuous and gradual, and involves repeated clashes between her desires and the beliefs and judgments of the traditional order.
Tsitsi Dangarembga also reveals the many facets of poverty and the effects it has on people's self esteem. Poverty creates in each character in the novel a type of "nervous condition."
"Nervous Conditions brings to the politics of decolonisation the energy of women's rights. By now a classic in African literature and Black women's literature internationally, Nervous Conditions is a must for anyone wanting to understand voice, memory and coming of age for young Black women in Africa." Carole Boyce Davies, Florida International University.
Novels and Autobiographies