The Mending Season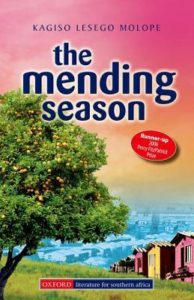 by Kagiso Lesego Molope. Blake Friedman Agency, London 2005
Kagiso Lesego Molope is a younger "soul sister" of Tsitsi Dengarembga. Her novel The Mending Season is also kind of "Bildungsroman." Apartheid separated the lives of blacks and whites in South Africa for a very long time. In 1990, the system starts to disintegrate, Nelson Mandela is released from prison, and the first "mixed" schools appear.
Tshidiso, a teenaged girl, is one of the first blacks in her township in Johannesburg to attend a "mixed" school, thanks to the actions of her now-deceased mother, Malebone, and her three sisters. Orphaned early, the four sisters decide to live together and raise Tshidiso as the only child living in their home. They want her to receive a good education, like the white girls, and not be limited to an inferior education and bad jobs, the way they were during the apartheid era. The sisters' household is seen as a den of wild women who are not married, living independently, deciding their own rules, disagreeing with neighbors about not only money, but also how to express rage and the role of men in their lives. They suffer the judgement of those around them. Tshidiso (meaning 'one who brings solace to mourners') silently takes in much of the world around her. A lemon tree in her yard provides her with a vantage point and listening-post. Tshidiso feels proud and insecure on her first day at the grammar school in the city. Life at the racially-mixed convent in town is very different from her township school experience. Now, she sits in a classroom with whites. But the other black girls are also different. Tshidiso tries hard in school, seeking to find her own path into an unfamiliar world. Pressures to conform her speech, clothing and other behaviors test her character.
A racial incident on the netball court threatens the life of the school. One of Tshidiso's classmates brings it to a head, when she calls her the k-word, "kaffer," which is insulting. Tshidiso is not defending herself, but instead another black girl of her class. In no time, the whole school is in a state of commotion. When even the media reports on the incident, Tshisido has to face a decision: Will she tell the truth?
Kagiso Lesego Malope tells her story on two levels, against the backdrop of the tense years 1989-90. The hopes, fears and changes in a young black woman are recounted against a history of rapid political transition.
Novels and Autobiographies