Sozaboy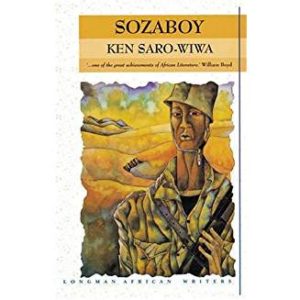 by Ken Saro Wiwa, Longman 1995.
Ken Saro Wiwa once was one of the rising stars of Nigerian Literature, coming after the powerhouses, Chinua Achebe and Wole Soyinka. Sozaboy is based on the writer's horrifying experiences during the Nigerian civil war (1967-1970).
Mene is a Nigerian teenage boy, who lives in a poor village with mud huts, no good schools, no hospital and no running water. A new military regime has come into power, but not everybody is happy with the new development. There is turmoil going on in the country, and when Mene, who is an apprentice driver, goes to the town of Pitawka (Port-Harcourt), he realises that the war has become intense. He meets Agnes, who later becomes his wife and encourages him to join the army. In her eyes, only a man who is a soza, a soldier, is a real man. We learn the fortunes of sozaboy, from his first proud days of recruitment to the disillusionment, confusion and horror that follows.
One of the characters that sozaboy meets several times during his horrific experiences of war is "Manmuswak." Translated from Rotten English, the name means, "Man must live by whatever means." The first time Mene sees Manmuswak, he is fighting on the front in Iwoama:
"Bullet stood attention. And when the man came near, they shook hands together. So the man bring out a packet of cigarette and give Bullet one stick. Bullet took it and they began to smoke…Then they sat down together. At first, they cannot talk easily because as you know, they do not know what to talk about…Then the man laugh small small. Then Bullet laugh too, small small… There was something which was worrying me for mind. I think I have seen that sozaman before. Oh God, where have I see him before? I asked Bullet… So I ask him why de man come. And why 'e bring drink. And wheher true true na dis man dem dey call enemy. "Oh yes. That man is the enemy," Bullet replied. "Look, Sozaboy, we are in war front, o.k. And in war front, there are all sorts of people. Drunkards, thieves, idiots and wise men. There is only one thing which binds them all. Death. And everyday they live, they are cheating death. That man came to celebrate the fact."
The first time Mene saw him, the tall man was explaining to someone in a bar that the motives of opposing sides in a war are relatively unimportant in comparison to the survival of individuals. Mene later encounters Manmuswak after he has deserted in order to escape the evils of military life:
"When I opened my eyes, I was in one long dormitory where everybody get bandage for leg or for him body. At first I think this is land of spirit. I begin to shout and hola like idiot man. Then one man came and chooked me and I come sleep one time like stupid goat. I think the man who chooked me this chooking is Manmuswak…So I rub my eye and I am alive and awake… Why must I always see this Manmuswak man? First it is in African Upwine Bar in New York, Diobu, then in the war front at Iwoama and now in the hospital dormitory. So he is good-time-man drinking tombo and dancing; then he is soza making cunny to scatter one camp and kill everybody; and now he is nurse, smiling and chooking person."
Throughout the novel, Mene continues to see Manmuswak fighting on both sides of the war. Ultimately, when Manmuswak tries to kill Mene, he comes to understand the symbolic meaning of his relationship to the tall man. He learns that his own survival, not grand ideals like freedom, have first priority.
Nigeria was once an English colony, and it kept English as its official language after attaining its independence. Ken Saro-Wiwa was well aware of this fact when he wrote his novel in rotten English, evoking the history of colonial times. Sozaboy is a masterpiece, and has been compared with the novel Simplicius Simplicissimus, a German plea against the madness of war.
Novels and Autobiographies